I am SO excited for this novel, you guys.
Boomerang
was one of the first new adult books I read, and it helped me realize what a legitimate genre it could be. I
really enjoyed Mia and Ethan's story
, and I'm excited about Adam and I am....intrigued about Allison. I am very lucky that I got to talk about
Boomerang
and
Rebound
with Veronica Rossi, one half of Noelle August, a few months ago, and I simply can't wait to finally check this one out!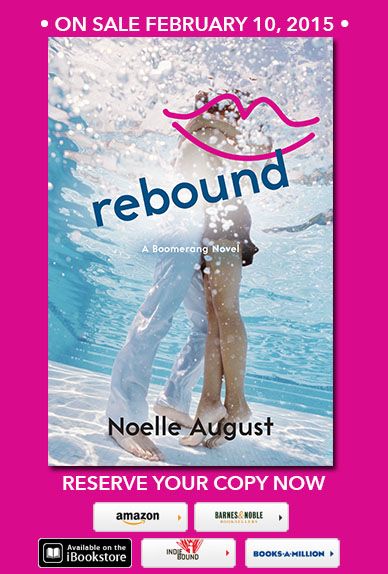 Boomerang #2
by Noelle August
At Boomerang, one night can change everything…

Adam Blackwood has it all. At twenty-two, he's fabulously wealthy, Ryan Gosling-hot and at the top of his game in the business world. His life is perfect, until a scandal from his past resurfaces and threatens to knock the tech wunderkind down and throw his company, Boomerang, a hook-up site for millennials, into chaos.

Alison Quick, the twenty-one-year-old daughter of a business tycoon—and the very ex-girlfriend of Boomerang's former intern, Ethan—has a problem of her own. After nearly flunking out in her senior year of college, she has one chance to redeem herself to her father by proving that she deserves a place in his corporate empire. That means spearheading her father's plan to sink big money into Adam's company and launch it into the stratosphere—provided Adam has no skeletons in his closet.

When the two meet, their sizzling chemistry makes it tough to keep things strictly professional. But when Alison discovers Adam's secret, she knows she should bring it right to her father, who'll leverage it for his own gain and use it to ruin Adam. The only problem: she's falling for Adam—hard.

Will earning her father's approval come at the price of losing her first real love? Or can Adam and Alison leave behind past mistakes and conquer the world—together?
Be sure to check out Boomerang first!
Pub Date:
February 25, 2014
Publisher:
William Morrow
Genre:
new adult contemporary romance
Summary:
Welcome to Boomerang.com, the dating site for the millennial gen with its no-fuss, no-commitments matchups, and where work is steamier than any random hook-up.

Mia Galliano is an aspiring filmmaker. Ethan Vance has just played his last game as a collegiate soccer star. They're sharp, hungry for success, and they share a secret.

Last night, Ethan and Mia met at a bar, and, well . . . one thing led to another, which led to them waking up the next morning—together. Things turned awkward in a hurry when they found themselves sharing a post hookup taxi . . . to the same place: Boomerang headquarters.

What began as a powerful connection between them is treated to a cold shower courtesy of two major complications. First, Boomerang has a strict policy against co-worker dating. And second, they're now competitors for only one job at the end of summer.

As their internships come to an end, will they manage to keep their eyes on the future and their hands off each other, or will the pull of attraction put them right back where they started?

PS Boomerang is only $1.99 in ebook form from Kindle, Nook, and Kobo. BUY IT NOW!



Question: What do you get when friends pen a story with heart, plenty of laughs, and toe-curling kissing scenes? Answer: Noelle August, the pseudonym for renowned editor and award-winning writer Lorin Oberweger and New York Times bestselling YA author Veronica Rossi, the masterminds behind Boomerang.
Author Links: