Happy Holidays, everyone! I'm Melissa Landers, author of the Alienated series, and I have a present for you—a brand new e-short from Disney Hyperion!
UNTIL MIDNIGHT takes place onboard an intergalactic transport, soon after Alienated ends and before the sequel Invaded begins. The story details Aelyx and Cara's last day together before he returns to Earth to mend the alliance and she continues to his home planet. It's sweet and romantic, and as a bonus, it includes a four-chapter preview of the sequel, which releases February 3rd.
Oh, and did I mention the best part? IT'S FREE!
Pub Date: December 23, 2014
Publisher: Disney-Hyperion
Genre: young adult, sci-fi, romance
Format/Source: ebook
Status: Book 1.5 of the Alienated series
Summary:
Cara and Aelyx only have one day to spend together before he returns to earth and she travels to Aelyx's home planet, L'eihr. Homesick and worried about the upcoming year apart, Cara is desperate to make these final hours count. Worst of all, Cara is missing Christmas, stuck on board an alien spaceship. When Aelyx learns that Cara is forgoing her favorite holiday, he tries to recreate Christmas in space by researching traditional earth customs…but a few things get lost in translation.


Book Links:
For international readers, Melissa has put "Until Midnight" on
Scribd
!
Cara & Aelyx's story begins in Alienated!
Check out my 4 star review here!
Pub Date: February 4, 2014
Publisher: Disney-Hyperion
Genre: young adult, sci-fi, romance
Status: Book 1 of the Alienated series
Summary: Two years ago, the aliens made contact. Now Cara Sweeney is going to be sharing a bathroom with one of them.

Handpicked to host the first-ever L'eihr exchange student, Cara thinks her future is set. Not only does she get a free ride to her dream college, she'll have inside information about the mysterious L'eihrs that every journalist would kill for. Cara's blog following is about to skyrocket.

Still, Cara isn't sure what to think when she meets Aelyx. Humans and L'eihrs have nearly identical DNA, but cold, infuriatingly brilliant Aelyx couldn't seem more alien. She's certain about one thing, though: no human boy is this good-looking.

But when Cara's classmates get swept up by anti-L'eihr paranoia, Midtown High School suddenly isn't safe anymore. Threatening notes appear in Cara's locker, and a police officer has to escort her and Aelyx to class.

Cara finds support in the last person she expected. She realizes that Aelyx isn't just her only friend; she's fallen hard for him. But Aelyx has been hiding the truth about the purpose of his exchange, and its potentially deadly consequences. Soon Cara will be in for the fight of her life—not just for herself and the boy she loves, but for the future of her planet.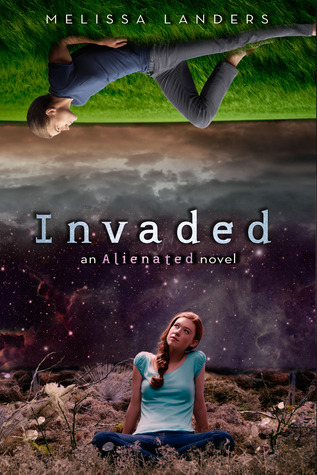 Pub Date:
February 3, 2015
Publisher: Disney-Hyperion
Genre: young adult, sci-fi, romance
Format/Source: ARC, TLA conference
Status: Book 2 of the Alienated series
Summary: Cara always knew life on planet L'eihr would be an adjustment. With Aelyx, her L'eihr boyfriend, back on Earth, working to mend the broken alliance between their two planets, Cara is left to fend for herself at a new school, surrounded by hostile alien clones. Even the weird dorm pet hates her.

Things look up when Cara is appointed as human representative to a panel preparing for a human colony on L'eihr. A society melding their two cultures is a place where Cara and Aelyx could one day make a life together. But with L'eihr leaders balking at granting even the most basic freedoms, Cara begins to wonder if she could ever be happy on this planet, even with Aelyx by her side.

Meanwhile, on Earth, Aelyx, finds himself thrown into a full-scale PR campaign to improve human-L'eihr relations. Humans don't know that their very survival depends on this alliance: only Aelyx's people have the technology to fix the deadly contamination in the global water supply that human governments are hiding. Yet despite their upper hand, the leaders of his world suddenly seem desperate to get humans on their side, and hardly bat an eye at extremists' multiple attempts on Aelyx's life.

The Way clearly needs humans' help . . . but with what? And what will they ask for in return?
Book Pre-Order Links:


About the Author:
Melissa Landers is a former teacher who left the classroom to pursue other worlds. A proud sci-fi geek, she isn't afraid to wear her Princess Leia costume in public—just ask her husband and three kids. She lives just outside Cincinnati in the small town of Loveland, "Sweetheart of Ohio" and writes adult contemporary romance as Macy Beckett. For more information, or just to say hello, visit
www.melissa-landers.com
.
Author Links:
Giveaway:
To celebrate this new release, Melissa is offering TWO lucky winners an autographed swag pack complete with a personalized bookplate, mini-poster, bookmarks, and stickers—open internationally! Just fill out the rafflecopter form below. Best of luck, and happy reading!

a Rafflecopter giveaway