I am so excited to bring you today's stop on the Before She Ignites tour! BSI is the newest fantasy from Jodi Meadows, and it's out TOMORROW! *celebrates* Jodi joins me on the blog today for a special guest post. Be sure to check out ALL the stops on the BSI blog tour for more guest posts from Jodi, interviews, reviews, and excerpts PLUS the awesome giveaway!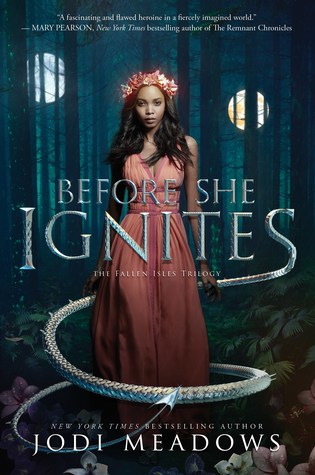 Release Date:
September 12, 2017
Publisher: Katherine Tegen Books
Genre: young adult fantasy
Format/Source: ARC, from the publisher
Before
Mira Minkoba is the Hopebearer. Since the day she was born, she's been told she's special. Important. Perfect. She's known across the Fallen Isles not just for her beauty, but for the Mira Treaty named after her, a peace agreement which united the seven islands against their enemies on the mainland.
But Mira has never felt as perfect as everyone says. She counts compulsively. She struggles with crippling anxiety. And she's far too interested in dragons for a girl of her station.
After
Then Mira discovers an explosive secret that challenges everything she and the Treaty stand for. Betrayed by the very people she spent her life serving, Mira is sentenced to the Pit–the deadliest prison in the Fallen Isles. There, a cruel guard would do anything to discover the secret she would die to protect.
No longer beholden to those who betrayed her, Mira must learn to survive on her own and unearth the dark truths about the Fallen Isles–and herself–before her very world begins to collapse.
Mary here! When I signed on to do the
BSI
blog tour, I was asked to come up with several ideas for a guest post for Jodi. Guest posts are a lot of fun because I get to come up with some crazy question I want to know about the author's writing process or the story and then put the author on the spot to answer said question. And a couple of my ideas were that typical goofy styles, but the one I really hoped Jodi would go with is the one that I've got for you now. Most people look at the
BSI
summary and see EFF YEAH DRAGONS, which is awesome, and I'm here for it. But I look at it, and I see one sentence: "She struggles with crippling anxiety." Mental illness has been explored extensively in contemporary and literary ya fiction, but rarely is it named in speculative fiction like fantasy or sci-fi, even when a character displays obvious characteristics (for example, Feyre and Rhys's PTSD and Feyre's depression in ACOMAF). So I asked Jodi to write a guest post about writing a fantasy character with anxiety and intertwining Mira's mental illness in the narrative, and here's what she had to say:
Some characters are the person we'd want to be in an emergency. They're decisive. They take action. They get the job done.
Others are the person many of us would actually be: scared, second guessing every move, barely keeping it together.
Before She Ignites is definitely a story about the second kind of character.
Mira grew up in a life of privilege, with practical skills limited to noticing dirt someone else needs to clean, eating food someone else has prepared, and obediently following her overbearing mother's orders. Her inner journey is about discovering her own strength and learning to think -- and do things -- for herself, and maybe (just maybe!) by the end of the series, she will become that first type of character . . . the kind of character we, as readers, like to imagine we would be, if faced with a similar situation.
Complicating matters is that Mira has severe anxiety: a shameful thing, according to her family. Though Mira has never felt that her anxiety defines her, she's been taught to hide not only the panic attacks, but the medication she takes and her coping mechanisms as well. And so, things get worse.
There are lots of ways that people cope when anxiety hits, from reorganizing and cleaning, to exercising, to buying things that help them feel more organized (regardless whether they end up using them). Personally, I have a box problem. And a notebook problem. Ultimately, it's a way to feel in control. By organizing the environment -- or at least acting like organization is about to happen -- sometimes the mind begins to feel that way, too.
While Mira probably does have lots of boxes in her room at home, she needed something for her time in prison, especially since she didn't get her medicine there. That's where the lists and counting came in: both things she could do in her own mind, quantifying and cataloging her world.
The challenge was finding a balance -- being true to Mira's character without bogging down the story. Ultimately, I ended up revising a lot, using my own experience and instincts as a guide, before giving the manuscript to a few trusted readers with varying levels of anxiety.
While Mira will not be magically cured of her anxiety in this series, part of her journey is learning to control it, rather than let it control her. Anxiety in fantasyland, it turns out, is a lot like anxiety in the real world. Except one place has dragons.
Purchase Links:
Sarah of
The YA Book Traveler
has created an amazing book trailer for
Before She Ignites
(and all the awesome images in the post!) so feast your eyes on this gorgeousness! (And then check out the other fantastic trailers Sarah has made!)
a Rafflecopter giveaway